Beach Bully Bingo
Season 1, Episode 2
Air date
September 22, 2010
Written by
Matt Wickline
Directed by
David Kendall
Episode guide
Previous
"Return of the Kings"
Next
"A Mermaid's Tail"
Beach Bully Bingo is the second episode of Season 1.
Summary
Brady and Boomer are banned from the beach by the top surfer Hibachi. After that, they return and they make an impossible bet with Hibachi: That they will beat him in a surf competition and take back the beach. Hibachi states that if he wins, then no one will be able to surf on the island ever again, but him and his friends. Brady and Boomer enlist in a boot camp run by Mason, who attempts to train them so they can learn how to surf. Brady and Boomer train and take on Hibachi, while Mikayla decides to keep an eye on Hibachi's friends. She discovers that they were trying to cheat by shining light from the sun into the eyes of Brady and Boomer by using a reflective shell. She puts the ones responsible to sleep with darts. Brady and Boomer win the competition, and make Mason the new "Big Kahula".
Plot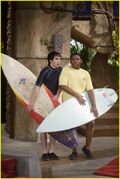 After surfing, the kings run into the 'Big Kahula' also known as Hibachi, who bans the kings. Hibachi's friends steal the kings' swim trunks causing the kings to have an embarrassing attempt to get to their room due to them going outside, then photographed.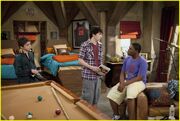 Lanny then tells the kings' that they rule the island and they should have rule over the beach. The kings then get beaten up by Hibachi's hair and they challege Hibachi to a surf contest. The kings soon learn that Mason used to be the 'Big Kahula' but lost due to a light appearing in his face. Mason puts the kings to a Surfing Boot Camp. During the training with Mason, Brady and Boomer are exposed to his strange tests, like guards throwing fishes and water at then while they try to balance over their surf boards.

On the day of the Surf Contest, a light shines on Brady, causing him to jump on his brother's back, then Mikayla finds out that two of Hibachi's friends are helping Hibachi cheat. While Mikayla knocks Hibachi's friends out, Mason turns Brady and Boomer's accidental actions into a motive for applause of everyone. The kings win, and they make Mason the Big Kahula of Shredder Beach.
Cast
Main Cast

Recurring Cast

Guest Cast

Martin Klebba as Hibachi
Chuck Hittinger as Skeg
Eve Sigall as Old Hag
Quotes
Brady: Aaahhhh! Boomer what happened? I can't see!
Boomer: The sun's attacking us. Stupid sun!
Brady: Look out Boomer, I'm coming over!
Videos
Gallery
Trivia
See Also
Community content is available under
CC-BY-SA
unless otherwise noted.