Big Kings on Campus is the fifth episode of Season 1.
Summary
Brady gets jealous when Mikayla starts hanging out with her friend Tristin who is into extreme sports. To impress her, Brady joins school and tries to do extreme sports. Meanwhile, when Boomer and Brady are placed with all the little kids, Boomer becomes attached to them.
Plot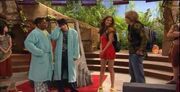 Brady and Boomer are having breakfast when Mikayla shows up with a backpack saying that it's a school day and that she's waiting for a friend to go to school. While the kings think that she's going to school with a girl, her friend ends up to be a guy that loves extreme sports.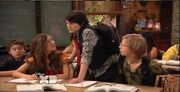 Brady decides to go back to school to watch Tristin's moves, but he and Boomer, who was forced to go to school along with his brother, have to stay with the meerkats, the little ones, while Mikayla and Tristin are on the jaguar table.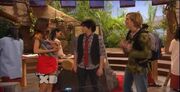 Brady convinces the teacher that Tristin can be bad in some subjects due to his love for extreme sports. It's a plan to make Tristin regret and stay away from Mikalya, but Tristin starts to take particular classes with her. Brady then creates a new holiday to the island and sends Tristin to hunt Yeti, but he gives up of his dream and stays there. In a last effort, Brady pretends to like extreme sports in order to impress Mikayla. Tristin invites him to do a very dangerous sport and, still trying trying to impress Mikayla, Brady accepts.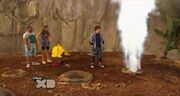 About to do the most dangerous sport he has ever done, Brady starts pretending that he is hurt. He accidentally steps on the most dangerous geyser and is about to be thrown up in the sky by it, but he is saved by Mikayla, who is thrown in his place. Boomer goes to get help from the meerkats, while Brady steps in the geyser and goes to help Mikayla. On the cliff, Brady is about to reveal his crush on Mikayla but is interrupted by her, who reveals that she likes him a little.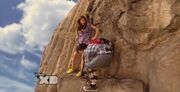 When Brady and Mikayla are about to fall from the cliff, the merkats and Boomer appear and save then.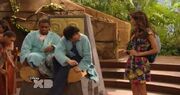 At the first day of school after the holiday invented by Brady and Boomer, Mikayla goes to school with a new friend, this time a girl, and Boomer, interested in Mikayla's friend, decides to return to school and wants Brady to go with him.
Cast
Main Cast

Recurring Cast

Guest Cast

Christoph Sanders as Tristin
Davis Cleveland as Chauncey
Leland Crooke as The Professor
Derek Anthony as Guard
Quotes
Videos
Gallery
Trivia
Mason is absent in this episode.
Dave Polsky, creator of The Buzz On Maggie written this episode
Davis Cleveland portrayed Flynn Jones on Shake It Up, another Disney show.
See Also
Community content is available under
CC-BY-SA
unless otherwise noted.