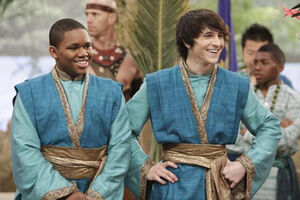 This is the relationship between the twin brothers Boomer and Brady.
Boomer and Brady usually get along but make a lot of mistakes and end fighting a lot. However, they always forgive each other in the end.  They are best friends, as when Malakai asked Boomer what his brother meant to him, Boomer said," Well before today he was my best friend." They did end up becoming best friends again.(The Evil King)
They both will go to extremely high lengths to help each other, as when Brady tried again and again to get Boomer a girlfriend after being literally thrown out by a girl, and when Boomer almost took a dangerous flight to get Brady to come back after he left Kinkow. (The New King)
The reason why Boomer wanted to build a resort so bad was because he missed Brady. (Yeti, Set, Snow)
See Also
Community content is available under
CC-BY-SA
unless otherwise noted.