Do Over is the ninth episode of Season 2.
Summery
Boomer and Brady find an ancient pocket watch that grants them the ability to restart the day as many times as they want without anyone else remembering. Boomer uses the watch to plan a retaliation prank against Mason, while Brady perfects his date with Mikayla. But when the group gets captured by the Tarantula People and the watch goes missing, the kings start to panic and hope they can do-over the day one last time to save themselves.
Plot
Mason and Mikayla come into the king's room to tell them about the new Jiki Biki ceremony later on in the day. Mikayla tells Brady to get rid of the cookie on his face, and the two leave. Boomer asks Brady why he had a cookie on his face, and Brady tells him about his "cookie bed". The two of them go to the beach to see what the ocean washed up. Boomer trips on a log, with Brady doing the same behind him. Boomer finds a box, that reads "Even for a royal king, too much time can be a dangerous thing." Brady tells him to open it and inside the box is a pocketwatch. Boomer reads the bottom, he thinks it says "Doover," but Brady corrects him that it actually says "Do over", and the two of them instantly appear in their room. Brady continues to say do over, landing them in their beds continually, to the anger of Boomer.

Back at the beach, Boomer tries to toss the watch into the ocean, but Brady tackles him. He tells him that they have to keep it, bacause they can restart their day when something bad happens. Mikayla walks onto the beach and asks what the kings are doing there and they ask her the same thing. She tells them she's patrolling for Tarantula People, who are active. She walks off, telling Brady to pull his shorts up, because she can see "king crack." Boomer says they can keep the watch, but only for life-threatening emergencies. A Razor Hawk then flies by and poops on on them.

At the Jiki Biki ceremony, Mikayla is telling Brady to throw the gourd at Jiki Biki to ensure another year of eighty degree weather, but Brady flirts with her mid-sentence, knowing he can just do over the day later. Mikayla turns around and instructs Boomer on what to do, and gives him the gourd. Mason gives him a headdress to wear, and it covers up his eyes. Without being able to see, all Boomer can do is chuck the gourd into the air, and it falls next to him. Mason yells "Airball" at Boomer, and everyone laughs. Boomer then picks up the watch and yells "do over."

Brady and Boomer appear in their beds, and Mason and Mikayla come in to tell them about the ceremony again.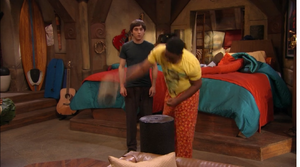 Boomer tells them to leave when he sees Mason. Brady points out to Boomer that they can use the watch to do crazy things, and Boomer smashes The Vase, but Brady tells him to do something they don't do every day. A montage plays as the two of them do many crazy things.

They wake up in their bed, laughing. Mason and Mikayla walk into their room again, but Boomer orders Mason to get out. He then tries to plot his revenge on Mason, which he will use the Do over watch to get. Brady says that he will use the watch to date Mikayla until she "fallls for him."

Another montage plays as the two of them use the watch to date Mikayla and get revenge on Mason, but each plan backfires, until Brady's picnic with Mikayla, where she tells him she just wants him to be honest, after getting pooped on by the Razor Hawk.

Brady later walks into the plaza, where Boomer shows him his big revenge plot, to humiliate Mason at a Guard Appreciation Party. Mason walks in and spots the plan, and asks Boomer if he's right about what it is. Boomer replies, calling Mason "Gorilla Head", and Mason gets mad. Boomer desperately screams "do over."

At the party, Mikayla comes in and Brady shows her how honest he is. But he takes honesty too far, and insults Mikayla, who gets mad and leaves. Boomer walks up with a shrimp cocktail while wearing his "Party pants." Brady asks him what the shrip is for, and he says Lanny got it for him from the Dark side. He brings the shrimp to Mason, who eats it and shrinks down. Everyone laughs, until Brady and Boomer find themselves surrounded by Tarantula People, who carry them off without the kings being able to restart the day, because Boomer left the watch in his shorts, not his party pants.

Boomer, Brady, Mikayla, Lanny, and Mason (still small) are now locked in the dungeon. A Tarantula Person comes up and tells them (in Tarantula Language) that they're looking for the Bat Medallion to bring the Mummy back to life. After starting to argue with Mason and Mikayla, Boomer reveals that he and Brady have been using the Do over watch to re-start the day. Mason tells him the watch is cursed and that if they can't get it back before midnight, they won't be able to re-start the day.Boomer then realizes that if he can get Mason to eat the shrimp in his pocket, he'll skrink even more and can squeeze through the bars to get the keys. Mason eats the shrimp, and crawls under the door to get the keys.

In the king's room, everyone climbs in through the balcony and Boomer sees a pile of pants. Mikayla puts Mason in her shirt pocket for safety. They then hear the Tarantula People talking outside, and Brady goes out to stop them, but instantly gets tossed back inside. The Tarantula People come in, and the Tarantula Leader is wearing Boomer's shorts and the watch. The Tarantula People then take them all out to be executed.

In the plaza, Brady, Boomer, Mikayla, and Lanny are tied to boards with a giant blade swinging over them. Brady talks to Mikayla about how honest he needs to be, and she says she just wants him to be himself, with his own qualities. She says that if they weren't about to die, she would go on a date with them. Mason comes out of her pocket and says he needs to get to the Tarantula Leader to get the watch. He tells Boomer to throw him. Boomer hesitates, but then tosses Mason across the plaza onto the Leader. Mason grabs the watch and carries it to them. Boomer then yells "Do over".

Back in the bedroom, Mason and Mikayla walk in to tell them about the ceremony, and Brady and Boomer are already very excited about it. Boomer says that he's like to throw the gourd around with Mason before the Jiki Biki throw. Brady tells Mikayla that after the ceremony they could go on the date she promised him. She doesn't know what he's talking about, and he gets stressed.

At the beach, Brady finds Boomer by the ocean. Brady asks him what he's doing, and he says he is throwing away the thing that wreaked havoc on their lives and almost got them killed. Brady says he's already doing that and throws Boomer's party pants into the ocean. Boomer gets mad and then throws out the watch. Mikayla comes out and asks them what they just threw into the ocean, and Brady says it was the party pants. Mikayla thanks him, and Brady says that maybe he doesn't need the watch to impress her. She then notices the king crack again, and he runs out to get the watch, with Boomer following him to get his party pants.
Cast
Main Cast

Recurring Cast

Guest Cast
Quotes
Brady (to Boomer): "I didn't tell you about my cookie bed? It's so much better for my back then my chocolate pudding bed."
Lanny (to Brady): "Sorry to break up the dating game, but it's about to be the last day of our lives!"
---
Boomer Parker: Isn't this Awesome? Mini Mason getting Laughed up by the Guards. Even the Tarantula People are Busting up. (Tarantula People invading Kinkow).
Boomer Parker and Brady Parker: TARANTULA PEOPLE.
Videos
Gallery
Trivia
Brady reveals that the watch was used 89 times by the Kings.
See Also
Community content is available under
CC-BY-SA
unless otherwise noted.