Revenge of the Mummy
Season 1, Episode 8
Air date
November 8, 2010
Written by
Dan Cross & David Hoge
Directed by
Adam Weissman
Episode guide
Previous
"Junga Ball"
Next
"Oh Brother, Where Arr Thou"
Revenge of the Mummy is the eighth episode of Season 1.
Summery
The Mummy gets revived with help from the Bat Medallion and he starts haunting the kings. The kings try to get it back before Mikayla and Mason find out.
Plot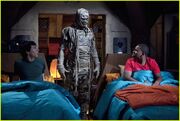 The kings start to have strange dreams with a mummy and Boomer dressed like a Tarantula Person, so they decide to sleep near the guards.

The following day Mason finds out that the Bat Medallion disappeared from the royal vault and it's because Brady lost it, but Mason and Mikayla don't know it. When the brothers are asked about it, they both lie and say that they don't know about anything. Mikayla reveals to the kings that if they had lost the medallion they would have strange dreams revealing how to retrieve it.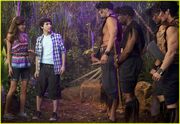 It becomes Mason's responsibility and he has to be humiliated in front of all the people, as it's a Kinkow custom to anyone who make anything of great importance disappear. Meanwhile, the kings try to retrieve the medallion. Mikayla appears while they are looking for the medallion and asks them what they are doing. Brady and Mikayla are found by the Tarantula people, but Boomer is able to hide himself. It is revealed that the Tarantula used the medallion to bring back to life a mummy to conquer Kinkow.

While Mikayla and Brady are tied to a tree near the Tarantula people, Mikayla reveals to Brady that the bat medallion was able to keep the mummy alive, but to become full powered again the mummy needs Brady's saliva.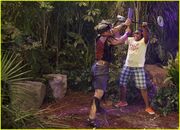 A Tarantula appears to Boomer and fights with him, but Boomer is able to defeat him. Remembering that in his dream he was dressed as a Tarantula person, he changes clothes with him and goes to seek his brother. At this time the kings finally tell the truth to Mikayla about having lost the medallion.

Dressed as a Tarantula, Boomer encounters his brother and warns him about his plan. After a fight, Brady takes the medallion from the mummy's neck and controls the Tarantula people with it.

Brady and Boomer end up being humiliated, as fair.
Cast
Main Cast

Recurring Cast

Guest Cast

Doug Tait as Mummy
Aaron Aguilera as Tarantula Warrior
Quotes
Videos
Gallery
Trivia
See Also
Community content is available under
CC-BY-SA
unless otherwise noted.