Where the Wild Kings Are
Season 1, Episode 4
Air date
October 8 2010
Written by
Kenny Smith
Directed by
Victor Gonzalez
Episode guide
Previous
"A Mermaid's Tail"
Next
"Big Kings On Campus"
Where the Wild Kings Are is the fourth episode of Season 1.
Summary
Brady and Boomer find a cute creature in the jungle and decide to keep it as a pet, despite Mason's warnings. Lanny calls the pet a "Giant Armpit". It starts off well, but gets worse when they start neglecting it and it turns into a large beast, kidnapping the kings in the process. Meanwhile, Lanny hypnotises the talentless court jester to finish off the kings but like all of his plans, it fails.
Plot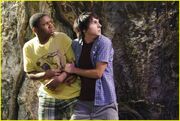 While searching for rocks to make a chair, the kings accidentally open a cave that was previously covered with rocks. They find a creature that they find cute, so they take it to their castle, ignoring Mason's warning about the weird and dangerous creatures that there are in the island. The kings give attention to their pet Pupaley, dressing it, feeding it, and playing with it. They soon start to neglect Pupaley, which angers it. Pupalay then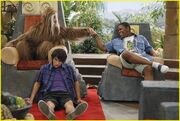 became a bigger and more ferocious version of himself . Pupalay destroys their room in its larger form but comes back to its cuter version before the kings come back and the kings don't know what truly happened. Mason came to see what's happened but to get Mason to leave Pupaley with them, Boomer covers it up saying that they were playing a game. Boomer shoves Brady into The Vase that breaks, giving an example.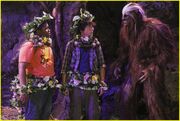 Later, Pupaley takes Brady and Boomer to its cave. Pupaley feeds the twins, plays ball with them, and lets them go to the bathroom. It then takes them back to the cave, getting ready to hibernate. Meanwhile, Lanny hypnotizes a jester to kill the kings, but it backfires on him as he is made king after Brady and Boomer suddenly disappear.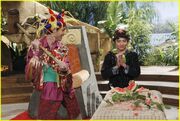 Mason and a zooligist look for the kings, finding them in the cave. The kings escape and the cave seals up.

The jester ends up stuck with Pupaley for the rest of hibernation, so he tells jokes to Pupaley. He tells a bad joke to Pupaley which angers it, and then Pupaley chases him
Cast
Main Cast

Recurring Cast

Guest Cast

Ben Geroux as Pupaley
Danny Seckel as Jerry
Ted Rooney as Royal Tracker
Eve Sigall as Old Hag
Douglas Tait as Big Pupaley
Quotes
Boomer: It's like they use jibberish to name things around here. You flower, I'll name you Boomshakalaka. Mr. Plant I dub thee, Shallawalladingdong.
Brady: If you're done flirting with foliage, I think I found it.

---
Brady: Dude...I think you broke the mountain.
Boomer and Brady: Cool.

---
Brady: Dude you can't go in there? Do you know how dangerous a cave is?
Boomer: Fine stay out here chicken.
Brady: I am not a chicken.
Boomer: No, right behind you. There's a chicken.
Brady: Quick, go in the cave, it'll be safer.

---
Lanny: Help! I'm getting attacked by a giant armpit.
Brady: Pupaley off!

Videos
Gallery
Trivia
The title is a parody of the 1963 book, Where the Wild Things Are by Maurice Sendak.
See Also
Community content is available under
CC-BY-SA
unless otherwise noted.